Best spas in Naples
Towers Hotel Stabiae Sorrento Coast
Hotel: Second on our list of the best spas in Naples is this beautiful hotel and spa, located in the wonderful town of Castellammare di Stabia, between the Gulf of Naples and the Sorrento peninsula. Risen from a reconversion of what was an old industrial factory, it has a strategic position but above all a magnificent view of the gulf, which will give you incredible emotions. The rooms are elegant, warm, welcoming and equipped with every comfort, among which the Vertigo Suite stands out, a beautiful room, with a whirlpool tub with glass skylight, located at the highest point of the hotel where the two towers of the structure are joined. The Goauche Risorante will delight your palate with Mediterranean flavors enriched by so much creativity, in a truly unique, intimate and peaceful atmosphere.
Spa: The Spa of the Towers Hotel is a real wellness refuge, where you will find a wide variety of services offered: 12 beauty cabins, herbal teas, relaxation area, solarium, sauna, turkish bath, balneo baths, a cold cave and many more. It is truly the ideal place to get rid of everyday tensions, especially in the balneo pools, where steam, a massaging sea water and a shiatsu water treatment will make you rediscover your inner peace. In this Spa in Naples much thought is given two couples, thanks to the offer  For Him & For Her, where you can both relax among the soft lights of the candles and an intimate atmosphere.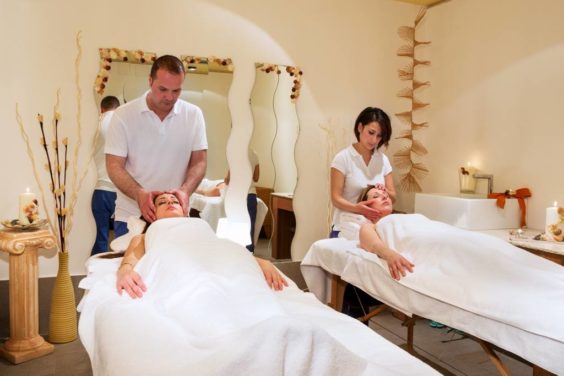 Grand Hotel Vesuvio
Hotel: On the Neapolitan promenade stands the Grand Hotel Vesuvio, one of the best spa hotels in Naples, which has been the most loved by celebrities from around the world for about 130 years. Attention to detail, attention to hospitality, historical richness and sophisticated style are the main features of this 5-star luxury property. The Grand Hotel Vesuvio has 160 rooms, 21 of which are magnificent suites furnished with elegance and luxury, and each room has linen sheets. The bar on the ground floor, the Vesuvietta, will allow you to enjoy the typical Neapolitan pastries every day from 9.00 to 23.00. There is also a magnificent restaurant in the roof garden, with a splendid panorama, named after Enrico Caruso, the most loyal customer of the Grand Hotel Vesuvio.
Spa: L'Echia is the wellness center of the Grand Hotel Vesuvio, an extraordinary and precious jewel composed of marbles, crystals, mosaics, rocks and water, which will cure your body and, above all, your soul. Here you will find a wonderful indoor swimming pool, turkish bath, sauna, jacuzzi and a cardio fitness gym. The name derives from Mount Echia, behind the hotel, from where, according to legend, the siren Parthenope threw herself for not being able to charm Odysseus. Let yourself be lulled by the legend and the magical atmosphere of these places.
The Article Quoted From Website https://q-spa.org/